2 girl Santa Orgy with Aimee and Gwen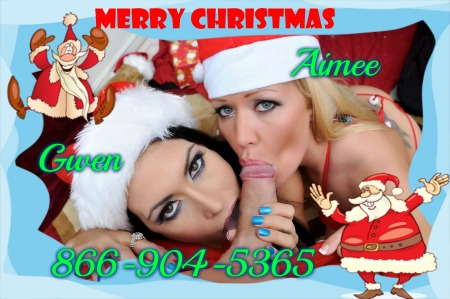 I stopped by the BMW dealer on my way home from work. I had been lusting for a beamer since I was a girl. Since it was Christmas, I was hoping for a good deal on a used one. When I walked in the door I was greeted by . Holy Fuck, I was blown away!!  I'm straight but this girl was fucking hot. Perfect tight little body slithered into a short black dress, gorgeous dark chocolate eyes, and the perkiest tits I'd ever seen. Oh, and she smelled so good that I felt my panties dampen.
"Hi. I'm Gwen. Welcome to Paradise BMW. What can I do for you?" Her soft hand gripped my sweaty one. "I'm looking for a used BMW and I need financing." I stuttered. "Well, all of our salesmen are busy and we are a bit short-handed, so maybe I can help you." We headed out to the lot where Gwen proceded to show me several cars. She was so erotic, rubbing the leather seats sensually and purring about all of the options. On the last car, she placed her hand on my thigh, sliding it downward. "We are having our Christmas party in about an hour. Come join us. The financing manager is playing Santa. Ask Santa nicely and he might help you get your car."
By the time the party was ending, I was well lit and having fun. I felt someone take my hand. It was Gwen. "Come sit on Santa's lap with me." The company Santa was fucking hot and we were rolling in his lap. He had his hands all over us, fondling tits and ass. Gwen pulled down his pants, revealing a large, thick cock. "Come on, Aimee, let's show Santa that we are very good girls." she said, pushing my head down into his lap. I sucked that fat candy cane as she slid her hand under my skirt, stroking my pussy. I moaned out loud as I felt her tongue touch my clitty. We were a writhing mass of Christmas cheer as Santa fucked us both. Gwen's pussy was sugar plum sweetness as she bucked it against my face. I came so many times.
When the party was over, I walked outside and slid into my brand new BMW. Gwen slid in beside me and kissed me deeply. "Let's go back to my place." she purred, "and finish what we started." I turned on the radio and "Here comes Santa Claus" started playing. We both laughed as we headed out to finish the party.